This is not what I want to post today.  In fact, the thought of it makes my heart as heavy as it has ever been.
Yesterday, my sweet sister-in-law, Sarah, was diagnosed with a brain tumor.  She is a mother to two small children, wife to the ever-so-awesome, Pat, and a crazy-good-at-her-job speech pathologist at a local high school.  I don't get the 'why'.  I know God does, but it's one of those things that, when I see Him, we're just going to have to sit down face-to-face and have a long talk about.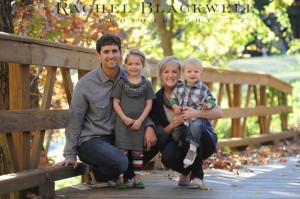 Surgery will be in Sarah's near future.  The doctors believe they can remove all the tumor without damage.  Pray for that.  And you know what… just pray. Pray for her.  Pray for their kids.  Pray for Pat.  Pray for peace and complete. and. utter. healing.
If you know her… text her, Facebook her, "tweet" her… Let her know that she is not alone in this and that prayers are constantly going up to the one and only ultimate Healer in her behalf.  For anyone who doesn't believe in the power of prayer, start believing.  I've seen it work miracles.  Believe it, and pray.
For anyone who knows Sarah, you know she likes to laugh.  And she does.  A lot.  Leave it to me to crack a "Where in the heck is Derek Shepherd  when you need him?" joke last night.  I told her I knew it was probably completely inappropriate, but I tend to crack jokes when I'm nervous.  Of course, she cracked one right back.  That's Sarah.
I believe with all my heart that God is going to do great things in her life.  Today I'm asking you to pray.  And I'll probably be asking more, so get ready to get on your knees for Sarah. And know without a doubt that she would get on hers for you.