I missed blogging yesterday.
It was one of those crazy, insanely busy days where taking a breath successfully is an accomplishment. I did have an hour or so to sit down at my computer, but I spent my time on other things. I'm so enjoying the new project I'm working on. Can't wait to share more about it soon.
BUT! Today is a new day. It's calm, relaxing, and THURSDAY. My keep it real day. And this story definitely keeps it real.
Yesterday, I drove to Matt's grandparents to drop Jeb off while I went to get a haircut. Gran and Grandpa live in an apartment community, so each time I pull up, Gran stands on her balcony and tosses me down the key to get in the front door. Easy enough, right?
But yesterday, since it was raining, I decided to enter the building a different, faster way after Gran threw me the key. I got a little turned around (so hard to believe, right?), but Gran found us quickly and told me the correct way to go. I dropped off Jeb, thanked Gran, and made my way back down the stairwell to the parking lot.
Only… when I opened the door, there was no parking lot. Instead, I found myself in a courtyard behind the apartment buildings. It took a moment for me to take in the scene. Too long apparently. Because by the time I realized I needed to grab the door, it shut behind me. Locked tight.
Now, ideally, this would have been me….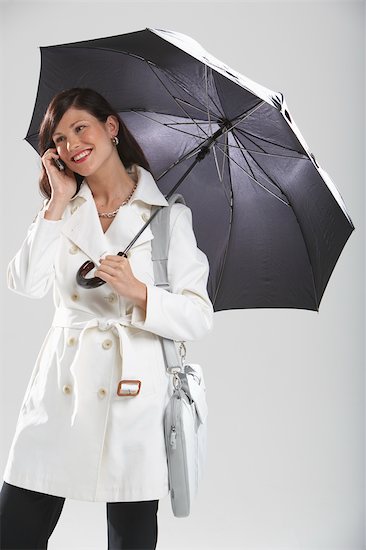 Isn't she just so put together and prepared-for-the-worst looking?
But not me. Nope. It was more like… I was standing there. In a courtyard. No umbrella. No phone. No overhead covering. It is raining. Hard. I am in a white shirt and sandals. And I am surrounded by more apartment buildings on every side. No way out that I can see other than knocking on some little old person's door which I did NOT want to do.
I stood for a second, thinking, "Well, now isn't this something that would only happen to you, Angela?" Stunned by my own genius.  Finally I decided I had to do something. I ran across the courtyard… in the wet grass… and finally saw a way out. When I emerged, I was in the parking lot on the back side of the apartments.
My car was on the OTHER side.
So I began jogging on the sidewalk through the rain, (only if you know me well will you find the absolute hilarity in that sentence) and finally made it to my car.
I was a drowned rat. In a see-through shirt.
The moral of the story? Even if it's raining out, take the route you know.
Well… it's either that or, Always have your cell phone.
Yeah, I think it's the second one.